Tue, September 3, 2013 at 12:00
Tweet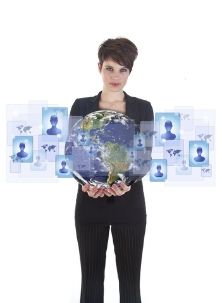 How would you use social media channels such as LinkedIn, Twitter, Facebook and Pinterest to manage your career? We'll provide five tips about how social channels are powerful conduits to identifying and managing your digital profile and voice. If you make a conscious choice to use social media to enhance your career, be clear about what your professional goals are and what you want to achieve by this approach and then actively manage your digital footprint. Here are five tips about how to use social media effectively.
Identify your professional voice – Identify a profile on LinkedIn and Twitter; create an online presence that tells a story about you and your career journey. Whilst sharing your story, consider demonstrating how curious you are about others by asking questions, listening, and participating in conversations. In addition to this, share meaningful content such as links to relevant trade publications, random musings about what you're learning about yourself and others, sharing videos, images and blogs. Add value to others lives. Be prepared to keep updating your professional profile as you learn and evolve.
Be human – Be yourself! By being authentic and expressing your true self you will create links to genuine connections with other leaders, by building robust, respectful and trustworthy relationships. Authenticity means to be your true self, a person that is congruent with their core values, beliefs, strengths, passions and skills. Get personal and share content that inspires the way people feel about you. "I've learned that people will forget what you said, people will forget what you did, but people will never forget how you made them feel." ~ Maya Angelou
Connect, reach out and network with peers – Networking through social media offers you a way to meet and connect with professionals interested in similar topics. You can connect and engage in conversations with professionals in your network and eventually meet in real life. It is imperative to be active on your chosen social channel(s) and cultivate relationships, through engaging in a conversation with your peers.
Approach, engage, ask questions and share – Generate useful content and post consistently, listening, replying and participating in active groups on LinkedIn, community forums such as Career Ignition Club, Twitter Chats and conversations. Use social channels to showcase your knowledge, skill and experience and to learn through listening and engaging with like minded professionals.
Work with a coach – Consider working with a coach who specialises in effective social media use and personal branding.
Social media is inter-woven into the fabric of society. Whilst many people believe content is king, collaboration and community are queen. It's time to get out there and create your own opportunities when it comes to managing your career in an ever evolving digital business world.
About the Author:
Stephanie Mount is a Position Ignition Guide. She is driven by understanding the human experience and supporting and challenging people to live and work consciously. She connects with people to identify their most authentic self and align these findings with a career unique to them. Stephanie's diverse career as a Police Officer, Community Manager, L & D Facilitator, Coach and Social Media Partner spans two continents. She uses her international experience, professional knowledge and skills and living as an expatriate to enable others to create a fulfilling life. Stephanie is an adventurer, passionate about the 'great outdoors' and travelling to far flung places on this beautiful planet.
Similar blogs: